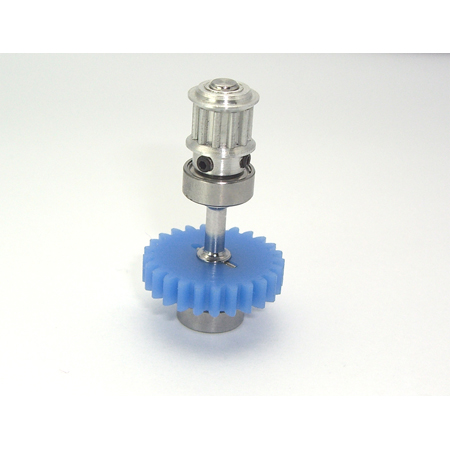 Manufacturer: MICROHELI CO., LTD
---
Specifications:
| | |
| --- | --- |
| Includes: | -1 x CNC steel shaft -2 x CNC brass washers. -1 x CNC delrin blue gear -1 x CNC aluminum front pulley -2 x precision ABEC-5 bearings -allen key and hardware included. |
| Requires: | -Assembly -Loctite (#242 recommended) all set screws. |
| Stronger CNC steel shaft for less susceptable to bendingPre-assembly 2 of 3x8x3 precision bearings to ensure super smoothness operationNo more glueing the bearings on front shaft!CNC machined delrin blue gear with guaranteed roundness and zero wobbling!CNC machined aluminum front pulley to eliminate stripping problem of stock plastic front pulleyWeight: | 4.5g |
---

Setup, installation manual:
coming soon

---

Where to get:
coming soon

---
Similar parts:
front shaft gear:
Front Shaft/Gear Set: TREX 450X/XL


gear pulley:
Tail Drive Gear/Pulley Assembly: XL
HS Tail Drive Gear/Pulley Assembly


pulley set:
Guide Pulley Set - 3DXL


set se:
Precision Tail Set SE: TREX/X400


pulley:
Front Tail Pulley, 52T: PM
Tail Pulley Spring Pin:CP
Guide Pulley: PM
HS Tail Drive Gear Set Pulley Not Installed, Blue
Tail Pulley Case: TREX 450X/XL
HS Tail Drive Gear/Metal Pulley Assembly, Blue
ALUMINUM FRONT TAIL PULLEY
Front Tail Belt Pulley:E,V
Pulley/ Hardened SS Tail Shft: 450X/XL
Tail Case Pulley:A,B,CP,V5
Front Tail Belt Pulley:A,B,CP,V5
Tail Rotor Shaft (3) & HS Drive Pulley
Front CNC Pulley: TREX 450X/XL
Tail Case Pulley:E,V
Tail Case Pulley: VE
Tail Rotor Shaft (3) and Metal Drive Pulley
Tail Belt Pulley - 3DXL
Tail Rotor Shaft (3) and HS Drive Pulley, Blue
Alum Tail Case Pulley:E
Tail Pulley, Alum, R: Venture 3
Front Tail Belt Pulley: VE
.. more pulley data.


front:
Front Radio Bed: VE
Front Radio Bed: CP,V5
Front Body/Canopy: BCX
Front Radio Bed:A,B,V50
Shaft Drive Universal, Front: VC,V9
Bevel Front Pinion Gear:S, VC,V9
Front Radio Bed:E,V
Front Pinion Case w/2-BB: VC,V9
Front Tank Mounts: V50
Elevator Arm,Front:A,B,E,V
Tube Drive Joint,Front:S,VC,V9
Front Body/Canopy, Police: BCX


gear:
Landing Gear Dampers:E,S(4)
High Strength Main Drive Gear, Blue (2)
.. more gear data.


Comments, stories:
If you have used Front Shaft/Gear/Pulley Set SE: 450XL/SE before, please write several words with your feedback, pros and cons, or whatever you think will be usefull for readers. If you have a question - you can ask it here.
Add comment

name,19/07
Best Wishes,

name,19/07
I want to say thanks!,

name,19/07
Very interesting sites.,

name,19/07
Best Wishes,

name,19/07
Excellent site. It was pleasant to me.,

name,20/07
Best Wishes,

name,20/07
Great site. Keep doing.,

name,20/07
Incredible site!,

name,20/07
I like your work!,

name,20/07
I have the same.,

name,20/07
Best Wishes!,

name,20/07
Best Wishes!,

name,20/07
best for you,

name,20/07
Great site. Keep doing.,

name,20/07
Perfect work,

name,20/07
So where it to find?,

name,20/07
Very interesting sites.,

name,20/07
Incredible site!,

name,20/07
Best Wishes!,

name,20/07
really great sites, thank you,

name,20/07
I like it so much,

name,20/07
Best Wishes,

name,21/07
So where it to find?,

name,21/07
Best Wishes!,

name,21/07
Your Site Is Great!,

name,21/07
It is a very good thing,

name,21/07
I want to say thanks!,

name,21/07
So where it to find?,

name,21/07
Best Wishes,

name,21/07
I like it so much,