RC Helicopters area
How it all Started…
Mini Tornado
New Articles:
Kyosho Concept 46VR
---
Airplanes area:

RV-8 my full-size plane
Other:

---

Similar pages:

full size airplane kits

vans rv8 for sale

vans rv8 kit for sale

rv-8 plane

rv planes

rv8 kit plane

full size plane kits

full size kit planes

rv-8 kit for sale

full size aircraft kits

vans rv8 construction

rv8 planes

vans rv-8 quick build

building an rv-8

rv-8 540

life size airplane kits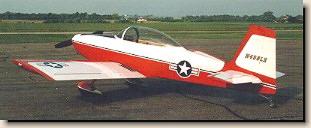 CONSTRUCTION OF
N5875G


The above is and RV-8 from Van's Aircraft site.
Here are a few pictures of a homebuilt plane that I am constructing. It's called an RV-8 and the kit is produced by Van's Aircraft. It is a two-place, tandem seating, 200 mph plane that is equipped with a color moving map display (GPS) which is coupled to an S-TEC autopilot with altitude hold. There is an electronic engine monitor as well as an electronic altimeter, mode 'c' encoder, fuel flow computer, etc. It will be powered by a new Lycoming O-360, 180 hp engine and a Hartzell constant-speed propeller. I purchased the 'Quick-build' kit which means the wings and fuselage are almost finished as shown below.
.

Parts cost for this plane is in excess of $90,000. I am building it to sell once the test hours have been flown off. It will be painted in a military scheme in shades of gray. Asking price will be $130,000.
Target completion date is June, 2001.
Find out more about this outstanding kit plane at www.vansaircraft.com